Historical Margate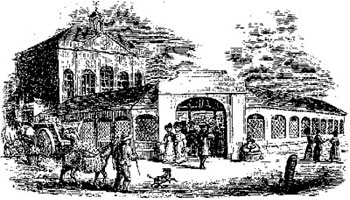 Margate was a "limb" of Dover in the ancient confederation of the Cinque Ports. It was added to the confederation in the 15th century.
Margate has been a leading seaside resort for at least 250 years. Like its neighbours Ramsgate and Broadstairs it has been a traditional holiday destination for Londoners drawn to its golden sandy beaches.
Edward Hasted, writing in the 18th century, described Margate as a "poor fishing town", but in 1810, when describing the shore, he wrote: "... [It] was so well adapted to bathing, being an entire level and covered with the finest sand, which extends for several miles on either side of the harbour... [near which] there are several commodious bathing rooms, out of which the bathers are driven in the machines, any depth along the sands into the sea; at the back of the machine is a door, through which the bathers descend a few steps into the water, and an umbrella of canvas dropping over conceals them from the public view. Upwards of 40 of these machines are frequently employed..."
The town's history is tied closely to the sea and it has a proud maritime tradition. The record of the vessel, Friend to all Nations, and the Margate Surfboat disaster of 1897 are noteworthy events in Margate's past
Latest Event List
Click to view our latest event list - 01/01/2017
TOWN MAYOR SUPPORTING LOCAL BUSINESS EVEN - 19/04/2017
A great Easter event in Margate. A collaboration between Margate Town Team, The ...
We currently have no charity events planned. Check back later for more details.
We currently have no civic events planned. Check back later for more details.