Mayor Presents Check to Hi Kent - 19 Dec 14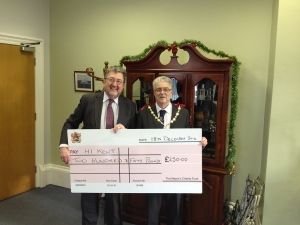 The Mayor of Margate, Cllr John Edwards was delighted to present a cheque to John Clayton of Hi Kent, who provide free aftercare, support and advice clinic for Hearing Aid users. The services are provided all over Kent but the funds will be targeted at the clinics running at the Gateway in Margate and Holy Trinity Church Hall in Cliftonville.
According to the latest figures, one in six people suffer from a hearing loss and in Kent there is now almost 300,000 people in that category and therefore the support for these clinics are invaluable.
For more information about the Mayors Fund please click here.