Cheque Presentation to the Gateway Disability Drop In Centre - 19 Dec 14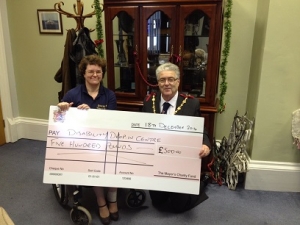 The Mayor of Margate, Cllr John Edwards was delighted to present a cheque to Amanda Goldsmith of the Disability Drop In Centre, who provide help to Disable people, their carer's and family to ensure they get all the support from various different organisations. The project is currently running at the Gateway in Margate.
If you require further information about the drop in centre Paul West of Disability Drop In Centre 07803 823600.
For more information about the Mayors Fund please click here.