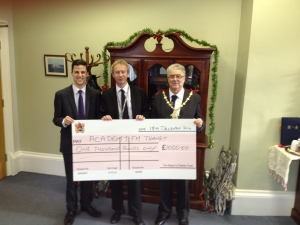 The Mayor of Margate, Cllr John Edwards was delighted to present a cheque to David Sharp of Academy FM Thanet, who help to provide educational programmes via their radio station based at Marlowe Academy. 2015 brings a new programme called í50 Thing You Didnít Know About Thanetí, to encourage primary school children to learn more about their local history. The schools that are currently involved in this project are Drapers Mills, Cliftonville Primary and Palm Bay Primary.
Tom Brooks, who was also present at the presentation, is currently a volunteer at Thanet FM, as well as being a student at Marlow Academy studying Business and Law; he also conveyed his enthusiasm for í50 Things You Didnít Know About Thanetí and looks forward to hearing the childrenís 2 minutes scripted speech and interviews with experts.
The anticipated outcome of this project is that Academy FMís Thanet wide audience would gain a appreciation of Margateís history; realise the importance of the town and its relationship with the sea and learn about people that have lived in Margate and how they have shaped Margateís future...in addition the young people involved in the project will gain a deeper appreciation of the town they live in.
If you require further information please contact Carol Partington 01843 448590 or David Sharp of Academy FM Thanet 01843 598558.