Use of Lose It - Parkinsons Thanet Branch - Cheque Presentation - 04 Mar 15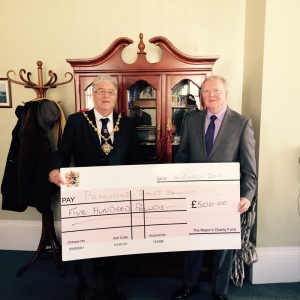 The Mayor of Margate, Cllr John Edwards presented the Thanet Branch of Parkinson's UK with a grant to help continue with the support that is given to local residents suffering with Parkinson. The Thanet Branch run a project called Use or Lose It, this group meet weekly at the Union Church Hall in Margate.
Every hour, someone in the UK is told they have Parkinson's. These groups help local people with Parkinson's so they don't have to face Parkinson's on their own. The sessions that the project provide are invaluable, if you would like to know more about this project www.parkinsons.org/thanet
For more information about the Mayors Fund please click here.