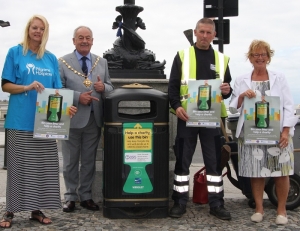 The Mayor of Margate and officers from Thanet District Council were joined in Margate Old Town this week (7 September 2015) by representatives from Keep Britain Tidy, Oasis Domestic Abuse Service, Porchlight and Pilgrims Hospices to proudly launch the new anti-litter campaign 'Bin it for Good'.
Thanet District Council is excited to be one of seven local authorities working in partnership with the Wrigley Company, Keep Britain Tidy and three wonderful local charity groups on the new three month initiative, aimed at changing behaviour whilst turning cleaner streets into cash for good causes.
Rubbish placed in the special 'Bin it for Good' labelled public bins around Margate Old Town and Harbour Arm (including the Turner Contemporary) will be weighed at the end of each month and converted into cash donations for the local charity partners.
Cllr. Edwards, Mayor of Margate, said ""This is a great initiative and supports our intention to keep the whole of the Margate area litter free. It's a fantastic idea to use charities as an incentive and I urge people to use the bins that are there instead of the floor."
To read full release http://thanet.gov.uk/the-thanet-magazine/press-releases/2015/september/bin-it-for-good-launches-in-margate/