Cllr Iris Johnston made Honorary Burgess - 19 Oct 15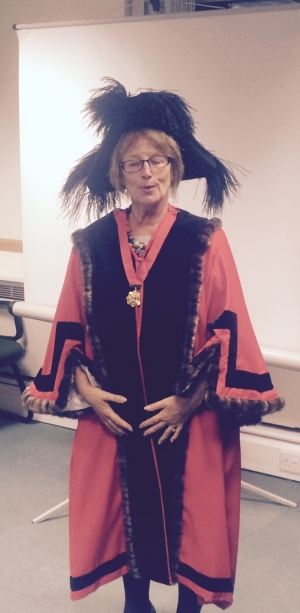 Margate Mayor Cllr Robin Edwards and the Charter Trustees paid homage to Cllr Iris Johnston and her contribution to the town of Margate both as a Councillor and as the Mayor of Margate in 2011. Cllr Johnston has worked tirelessly to improve the area for her community.
Moving to England 30 years ago, she has embraced Margate, which she now calls home. She takes her role very seriously, often picking up litter or getting involved in a campaign to make Margate a place that we want to live or even visit.
Cllr Johnston has also been recognised for the part she plays in tourism by recently being made the Chairman of Destination Britain.
Cllr Johnston has now been given the honour of becoming a Burgess for the town. In times gone by the role would be of a Freeman, they would free access to the town not having to pay toll charges etc but as we no longer have tolls on King Street, the role has moved on to other honorary positions such as Burgess. We are sure Cllr Johnston will embrace her new role and approach it with the same enthusiasm she does with anything she undertakes.