Quarterdeck to Create New Studio With Help From The Mayors Fund - 25 Jan 16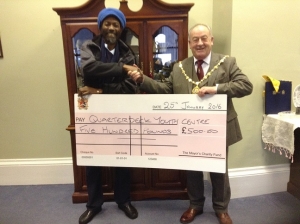 The Quarterdeck Youth Centre will soon be celebrating 50 years of helping young people with personal development and achievements. Highlighted recently in the Try Angle awards, where members received awards for their contributions in Music.
To keep helping the young achievers Quarterdeck are creating a new music studio, which will improve their offer to the wider community of young people and help them communicate through the media of music.
The Mayors Fund Committee were approach to help provide funds to make the studio a realisation and the Mayor of Margate Cllr Robin Edwards was delighted to present a cheque to Albert Edwards and looks forward to the day the studio opens.
For more information about the Mayors Fund please click here.