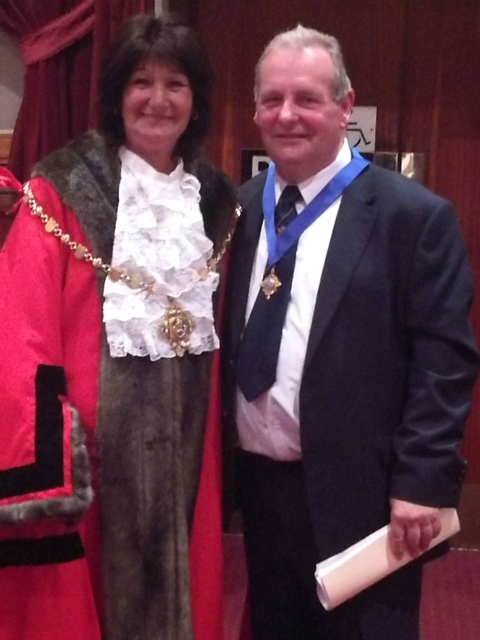 Good Evening Ladies and Gentlemen and honoured guests.
Never in my wildest dreams did I ever believe that one day, I would have the honour to be Mayor of Margate.
I would like to thank the Margate Charter Trustees for placing their trust in me and giving me the opportunity to serve our community as Mayor.
And that is where the thrust of my term as Mayor will be - serving our community. I am your Mayor, I am here to serve you.
Over the coming months, I would like the take the opportunity to meet as many local community groups, organisations and faith groups as possible... not forgetting our local schools; I must say how very pleased I am to see so many young people here tonight. We have pupils from three local schools; St Anthony's School, Cliftonville Primary School, and Drapers Mill Primary Academy, as well as representatives of the Sea and Marine Cadets, the Air Force cadets, and Quarterdeck Youth Hub, thank you all for coming. There are representatives of Community Groups - Gordon Road, Parkinson Society, the Boys and Girls Brigade, Margate Ambulance Corps and the Greek Community of Margate as well as the RNLI... This is how I would like my term as Mayor to continue - involving all.
To many people, the office of Mayor is seen as aloof and out of touch; that to invite the Mayor, or meet the Mayor, something grand has to be laid on - but you know, a cup of tea and an iced bun serves just as well, as it's people who count.
There's another task I wish to progress - and that's the parishing of Margate. This process was started under my predecessor, Cllr Dixon, and it is important to see the process through to fruition if Margate is to take its rightful place amongst the Thanet Towns. Without the parishing of Margate - that is, Becoming a Town Council, Margate is likely to lose out on investment and grants. As a Charter Town, our hands are 'tied' in what we can and cannot do, what we can and cannot fund - we do not have the powers that a Town Council, or even a Parish Council have - we are... the 'poor relations'.
Margate fought a long battle to become a Borough in its own right and our Charter was granted in 1857 - (we have brought the Charter along tonight, so you can all have a look at it) We managed very well as a Town right up until 1974, and there's no reason why we cannot succeed as a Town again if we all pull together.
I look forward to the coming year and will do my utmost to be an ambassador for Margate and promote this town of ours.
I am pleased to be able to tell you, that I have asked the Reverend Dawn Watson, curate of the Parish Church of St John the Baptist to be my Chaplain for the coming year. She has agreed, but unfortunately, is unable to be with us this evening. I must therefore say thank you to the Reverend Stanley Evans, for agreeing to open the formalities this evening with a Prayer. The Reverend Evans was Mayor's chaplain for many years so is no stranger to the task.
Finally, I know you don't want to hear a long speech. But there's one person I really do need to thank - Cllr Rosamund Dixon, who has been my mentor throughout the last year and has guided, encouraged and sometimes cajoled me, but has always had faith in me. Cllr Dixon, Roz, will be a hard act to follow...