Margate 1st (St Johns) Scouts - 26 Jan 16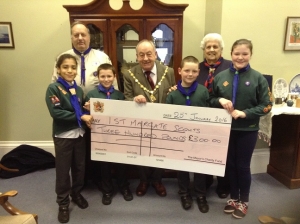 The scouts fund raising efforts, like Bob a Job etc can never quite stretch to the costs of property maintenance, such as a new roof, windows and doors that is so desperately needed for one of the local scout huts.
The committee believe the Scouts offer an important resource for our young people and it is important they have a good building to run their groups.
The Mayor of Margate Cllr Robin Edwards presented Ann Wells MBE, the leader and some of the cubs with a cheque from the Mayors Fund Charity to help assist with these escalating costs.
For more information about the Mayors Fund please click here.